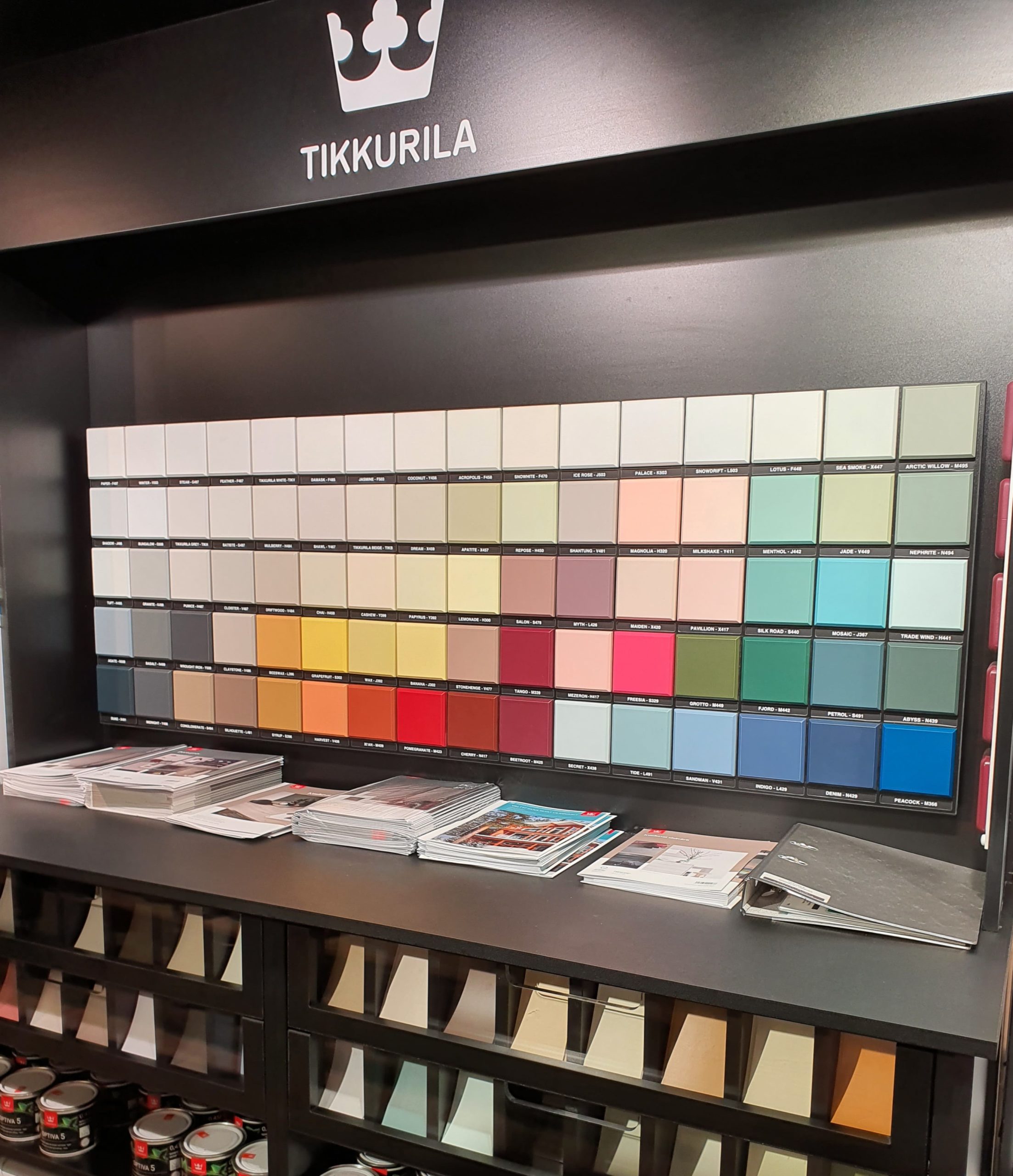 An introduction to finest quality Nordic-made paint brand – Tikkurila by Kate Gaynor of Tikkurila Ireland
Value for Money
The Irish market is flooded with different brands of paint, all with varying price tags and levels of quality. The first, most evident, characteristic which sets Tikkurila paint apart from it's competitors is it's price point. Considering the excellent quality you know you can rely on from this Nordic brand, it comes with a very competitive price tag. We all know that there is nothing more expensive than cheap paint so it is reassuring to be able to purchase paint that you can trust to perform for many years without breaking the bank.
Long Lasting
The longevity of paint is an interesting factor to consider. If you purchase cheap paint to freshen up a shed for instance, you may find yourself having to repaint it every spring. Once you add up the yearly cost of paint plus the time and effort you need to put in and compare it to using a top quality paint such as Valtti Opaque which can last from 10 to 15 years you may be surprised which works out cheaper, and less effort. Not only does having high performing, long lasting paint save you time and money, it is also better for the environment so everyone is a winner.
Quality
We have touched on Tikkurila's reputation for quality but we would like to go into the reasons why it has become a trusted household name. Tikkurila is a leading Nordic paint company whose products are manufactured from carefully chosen raw materials that meet the highest quality standards. For decades, Tikkurila has been developing and promoting high-quality and user-friendly surface treatment solutions that are safe for both people and the environment. Beyond being a paint company, Tikkurila is a skilled community of talented professionals who are used to living in harsh conditions, equipped with an understanding of aesthetics and an affinity for sustainability. If anyone can have an understanding of the best coatings to deal with the Irish climate it is these clever people.
Kaleidoscope of Colour
Its all very well having a top class product at an agreeable price but it is also very important to have that perfect hue to elevate a piece of furniture or bring out the personality of a room. Tikkurila comes in thousands of stunning colours and the Tikkurila colour stand is a sight to be seen! Laden with beautiful swatches and colour cards we are sure that the perfect colour is just waiting for you to lay eyes on it!
Variety of Products
If you have a project on you can be sure that Tikkurila has the perfect product for the job! From functional paint such as Luja anti mould paint, the Tikkurila Wall Tile Kit to Multistop knot blocking primer to Taika glow in the dark paint, you will be blown away by the variety of exciting potions that await.
Professional, friendly advice
Michael and the team at Stillorgan Decor are always on hand to help with any queries or issues that you may have so don't be shy! Call in store or pop a message on to @stillorgandecor Instagram page and ask about what Tikkurila product is right for you and you know you are in good hands!
By Kate Gaynor – Tikkurila Ireland
Shop our full range of Tikkurila Paint Online by clicking here. Our range of Tikkurila Paint is available to view in-store and available to buy online for collection or delivery nationwide.