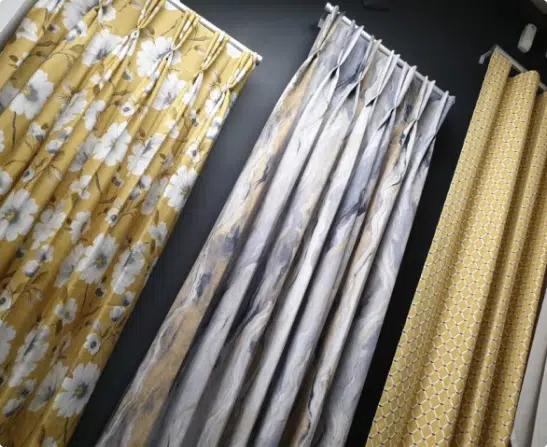 luxury custom-made curtains
Our curtains showroom is home to a vast array of fabrics and styles that can turn any window in your home into a wonderful display. Choose from a beautiful variety of fabrics to find the style that suits you, be it modern, traditional, casual, classical, or formal.
Each pair of custom curtains is tailored specifically for the individual client, taking into account your required length and width, as well as lining and pleat style, so you can rest assured that your curtains will fit perfectly to your home.
We also stock a range of fabulous ready-made curtains in a variety of sizes, colours, fabrics and styles, so we have something for all budgets. Why not visit our showroom and start your home transformation, or contact us for a custom quote.
high-quality curtain poles
You have the curtains, and now you need to hang them. Come, browse a vast range of the most beautiful curtain poles from leading manufacturers in our showroom or online. We offer a variety of styles and finishes including traditional, antique, and contemporary. You're sure to find the perfect one from our range to frame and present your curtains beautifully.