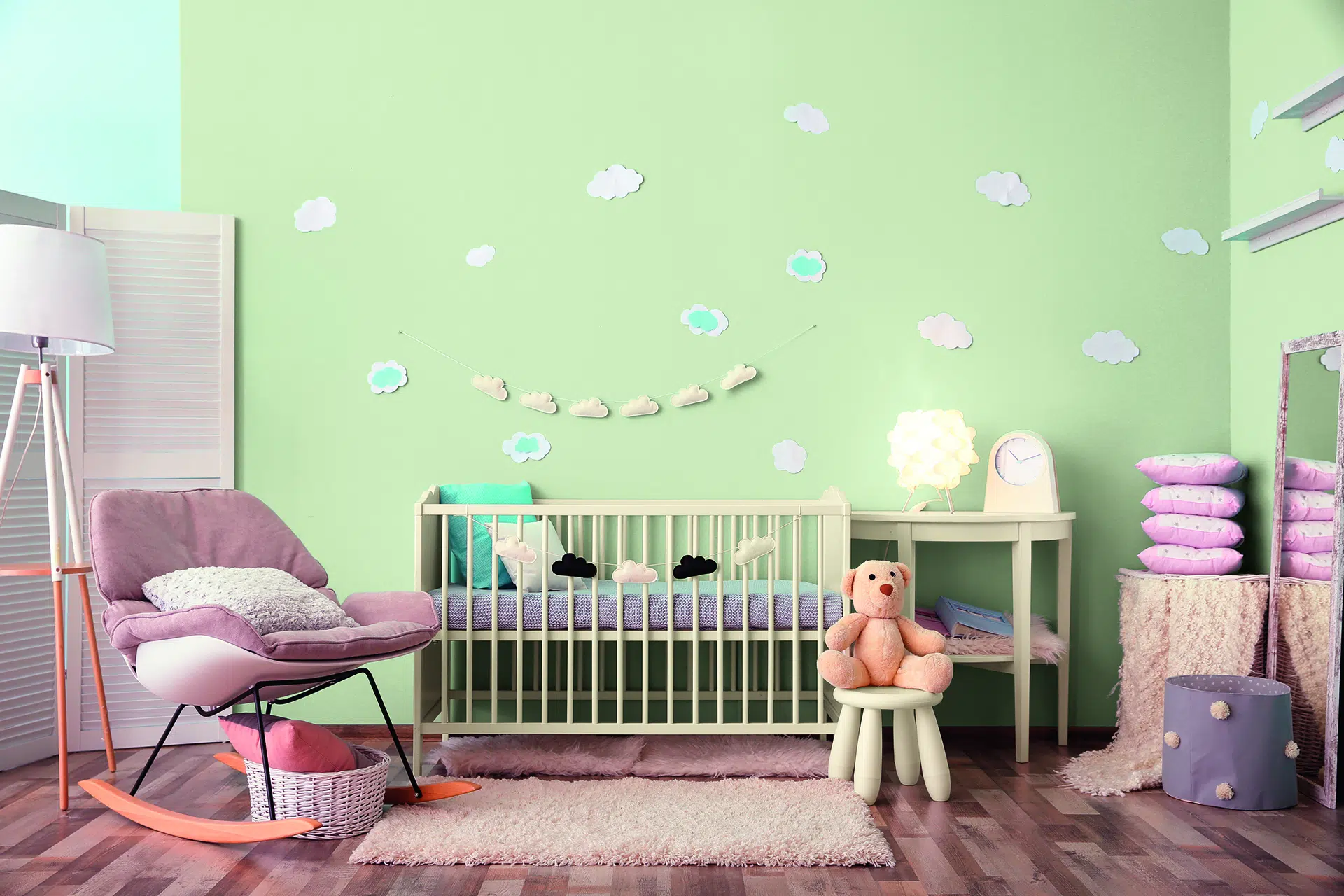 It's coming up to Christmas and your little darlings are super excited and they may find hard it hard to to relax and sleep with those sleigh bells on their way. Using restful colours and simple layouts can go a long way to help the wind-down and send them off to dreamland.
A new range of colours have been introduced in a Kid's Colour Collection by Fleetwood that has a definite subtle and soft feel to it.  The colours contained within reflect that trend towards warm neutrals in combination with more pastel and deep tones. The first page is very much aimed at the nursery and young children's room with soft blush pinks like Blushing Princess or Posture and Pose as well as warm greenish tones of Growing Season. In order to use these deeper, stronger tones keep in mind that you may want to place them behind the head of the child when they are sleeping in order to aid restfulness, this way they are out of the sight line for when they are going off to sleep.
Cocooning is a great trick to use should you want an effect that will aid sleep.  This process employs the theory that you can create a womb like effect by using a mid-colour like Memphis Belle, ceiling in a lighter shade and then the lowest portion of the room ie. skirting in Designer Tan.  This is a very tonal look with colours that are very closely related and sitting on a similar spectrum, gives a restful, tranquil and cohesive scheme.
For me, it's the way in which these colours are used that makes the most of the tones.  I do love to use paint in a way that is unexpected – so for a room that may be smaller why not consider using the colour on the ceiling with the coving in Almost White (from the Popular Colour Card).  This colour is ideal if you have light issues due to its vibrancy, or if you are lucky enough to have a south facing aspect use creamy white.  Try a combination of Posture and Pose on ceiling with Panda White walls. 
As the children grow start school and get into pre-teens the style of room tends to change and this age are surprisingly savvy with their interior taste. Currently Colour Blocking is a huge trend for this age and quite a simple look to pull off.  Colours can be combined using fresh whites like Half Moon White and neutrals like Hemstitch.  Adding these colours as diagonal divides between colours like Burnt Pumpkin and Carlingford Lough will give that colour blocked look particularly when cut across the ceiling will take the "squareness" out of rooms that have no natural features.
For every age group and style the perfect colour awaits, it just seems that for me, it is all contained in the Kids Colour Collection from Fleetwood.
By Patricia Wakely