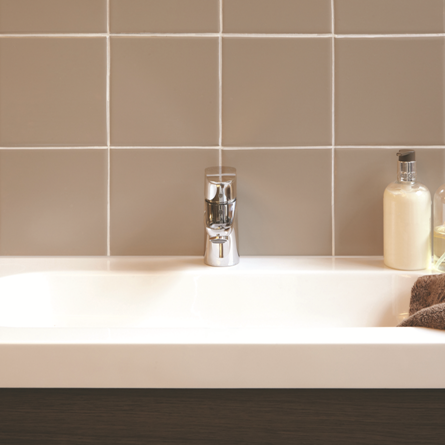 how to paint tiles
In our Dublin Paint Store one of the most frequently asked questions we get is "Can I paint my bathroom or kitchen tiles?" The answer is yes you can and here we have created a guide to show you how to paint tiles.
preparation is key
1. Clean your tiles thoroughly. To ensure grip and adhesion of your primer, cleaning them with a degreaser and or mould cleaner is essential. To degrease we recommend using sugar soap or Krud Krutter with a soft scouring pad or similar. If your grout is mouldy or stained we recommend to use a good quality mould cleaner or fungicidal solution such as Tetrion Mould & Mildew Remover or Ronseal 3-in-1 Mould Killer. After cleaning rinse with lukewarm clean water to remove any residues.
2. After you have completely cleaned your tiles, leave them to dry and you are ready to apply your adhesion primer. We recommend a good quality primer such as Zinsser 123, Zinsser Cover-Stain or Fleetwood Bloxx-It. Apply two coats of your adhesion primer by brush or roller, allowing adequate drying time between coats.
3. When your primer is dry and ready to be top-coated we recommend applying a hard-wearing finish such as Colourtrend Satinwood or Fleetwood Advanced Satinwood in the colour of your choice.
4. An optional step for extra protection is applying a water-based protective varnish such as Polyvine Decorator's Varnish in a finish of your choice. *Only apply a water-based varnish if you have applied a water based topcoat.
We generally recommend to paint your grout too as trying to avoid painting it is painstaking and time consuming.
another way…
Alternatively, you can combine steps 2 and 3 by applying a specialist tile paint such as Ronseal Tile Paint or Fleetwood Tile Paint which have and adhesion primer built in. We recommend the steps outlined above as you have a much greater colour choice by applying a separate topcoat.
So there you have our step by step guide on how to paint tiles in your bathroom or kitchen. Why not pop into our Paint Shop in Stillorgan, Dublin for more tips and advice from our trained staff? You can also get everything you need to transform your tiles in our Online Store today including our Painting Made Easy 'Wall Tile Kit'.